Choices for your bathroom remodel
Getting your bathroom remodel done right and on budget requires careful planning. Knowing what you want to do before you start is critical. But how do you go about figuring out the right scope and cost for your project? Our bathroom configurator can help set your project up for success from the start.
Refresh, Replace or Remodel
We do a lot of bathrooms and I wanted to share some of the design related issues you may be required to make when remodeling your bathroom.
The first decision you'll make – and you may have already made it – is what are you doing and what are you not doing. We think about projects in three groups: Refresh Replace or Remodel.
In a refresh project, you are typically looking and fixing up what is there and perhaps changing out some of the components. You are likely happy with the layout and the bathroom components but looking to refresh through repairs, repaint and perhaps changing out some minor components.
In a replacement project, as the name suggests, is when you'd like everything replaced but no major change to the floorplan or layout is needed. You again are happy with the floorplan of your bathroom but wish to rip out existing toilets, cabinets, flooring, bathtub and showers.
In a full remodel, you are likely expanding a bathroom, moving walls, relocating plumbing and major features of the bathroom. This is almost always going to take the longest and cost the most.
Once you've determined what you are doing at a high level, there are many more decisions to make.

Bathroom Vanity Cabinetry
One big decision that goes into a bathroom remodel is the vanity cabinetry.
With cabinetry for a vanity, you have many cool choices at a range of prices. You may opt for a nice pre-fabricated vanity that includes new sink and faucets and countertops as a single unit for one price. If you can find a style and size that works, this may be your least costly option as the purchase price is good and installation is quick and easy. Unfortunately, it can be difficult to find the right size and style.
Most bathrooms we do will use cabinetry that can be selected and specified for your exact space and style. You'll have your range of choices if you go this route including cabinet finish – do you want paint, stain or wood laminate? Color and finish is a matter of taste and style. There are no right or wrong answers but you will want something that flows with the rest of your house typically and works with the other design elements of the bathroom.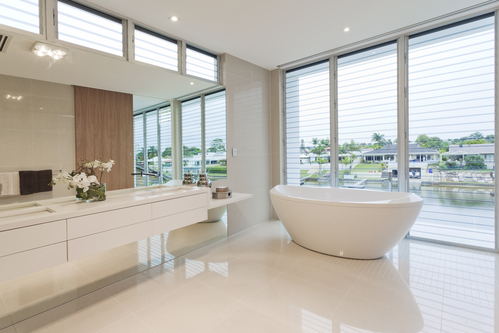 A common question we discuss related to bathroom cabinetry is cabinet height. It was common years ago for bathroom vanities to be 32" high. This is very low by today's standard. Typically vanity heights are now 36" which is the same as a kitchen counter. This is considered "comfort height". We even occasionally do cabinet heights up to 38" which gives a very luxe feel but is usually best for powder rooms vs bathrooms used for everyday use.
Another common trend we see in bathroom vanities is floating the vanity off the floor. This gives the bathroom a lighter more modern feel. When combined with under-cabinet lighting it provides an elegant and tasteful look. If you're going for a more traditional look we would recommend going with vanities that extend to the floor.
There are many other decisions that go into your bathroom remodel. We able to discuss all elements with you including shower enclosure styles, flooring, tile options, sinks, plumbing and toilets.
For more information on the questions you'll want to consider before moving forward with your bathroom remodel, please visit the bathroom configurator on our website at habitatreno.com. Or if you're local, feel free to contact us for a complimentary design consultation. We have a staff of talented bathroom designers who would be happy to explore the options with you!
Contact Us
Phone: (480) 842-5059
Meetings are by Appointment Only.
Request Design Consultation
Get Remodeling Estimate
Main Office & Design Gallery @ Thingz(our offices are inside Thingz in the Scottsdale Design Center)15125 N Hayden Road, Suite 100Scottsdale, AZ 85260
Design Gallery @ Boulevard Urban Living(Coming Soon!)13802 N Scottsdale Road, Suite 134Scottsdale, AZ 85254